This post will be about some major changes I found during gameplay plus some "oddities", something strange or terribly funny, or even the slightest inside joke I found out. Let's start with something stupid, just to screw your mind.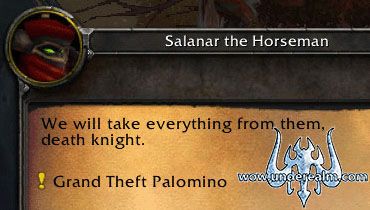 Found during the first DK Quests. "I lol'd irl" (Anonymous)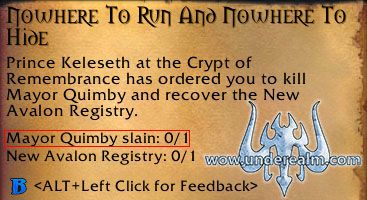 If you don't remember Mayor Quimby, you should be ashamed of yourself. NO, REALLY! Also, apparently Blizzard just couldn't resist another citation from BattleTech, and told us to stole New Avalon's Registry, but just after slaying each one of them, or closely anyway.
Off to serious things slightly less stupid things.

I had to check with my own eyes, so I rerolled hunter just for you guys. And yes, pet slots have increased from 2 to 4, rising the number of usable pets to 5. What? 4 you say? You need to tame beasts for skills? No, that's what you HAD to do. Skills will be learned on a level base, lower level pets after taming (or being left in the stables) will automagically level to 5 levels below yours, and so you can have 5 pets at a time zOMG I CAN DIE HAPPY NOW!!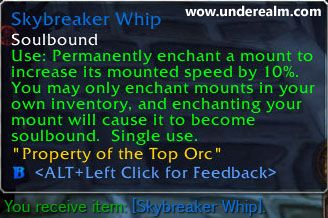 Shortly after I logged with my copied 70, I read the message you see below last image: "You receive item: [Skybreaker Whip].". Useless to say, I had a unique reaction after this message, which left me a huge WTF?!? question mark parked over my hair. I tried to reequip it but it didn't work. After hovering I noticed that the description was insanely longer than the normal I used to know. Read for yourself. NO MOAR TRINKETS!! The problem is that if you use more than a couple mounts, this will be a major pain in the ass wallet, because you would need several different speed enchants… basically just another money sink.
How the hell do you apply that you ask? I'll show you right away, and the next is a feature that I like and welcome a DAMN LOT.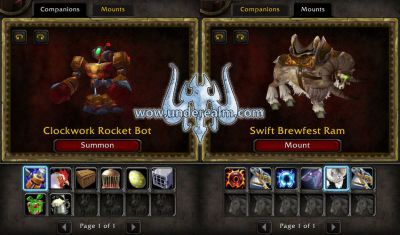 This is a merged screen from the Character tabs, and it's a screen of the "Pets" tab. What? You don't understand? Press "C", Character frame will popup, with tabs like "Character", "Skills", "Reputation" and so on. After the "Character" tab it's been inserted a new "Pets" tab. From there you can select (you heard me right!) the pets or the mounts you want to summon. This has a few consequences:
All mounts and pets have been "mutated" in "Use to Learn" objects, similar to what happened with

[Riding Crop]

,

[Skybreaker Whip]

and the like.
You won't ever again use slots in bank or inventory bags to store all the damn companions and mounts you have acquired through your levels.
Because of points 1 and 2, you are now forced to buy or acquire all the damn companions and mounts you wanted to take but you didn't/couldn't because of "where the hell do I put them?"
I should have stopped at 3.
ISN'T IT TERRIBLY COOL? As you can see above I have/had quite a few mounts and minions, I destroyed even some because I didn't know where else to put them to allow more space for new items, equips and the like. With those mounts/companions alone, you just theorically freed up a 16 slots bag in the bank. Don't you feel happier?