You want to know more about Death Knights, don't you? I know you do. Don't lie, I know all you damn nerds will roll a DK as soon as WotLK appears, so don't even try to lie. Just for you I will spoil the best I can, to remove that shiny happy smile from your sorry faces.
Just kidding, btw. No, maybe not.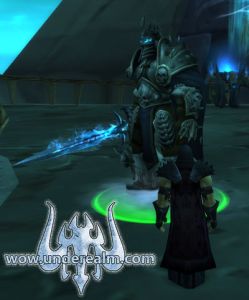 As I've already said in the 2nd post on this blog, you start right in front of the Lich King (or better, right at his back). Here's a picture of him. By the way, every time you talk with him he will tell you bad things. Like, your soul is mine, you will have no own will, your mama is fat, and so on.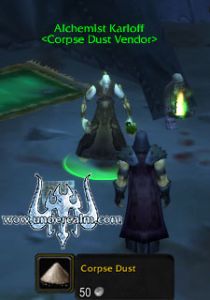 I bet my ass goggles this is one of the first things you will notice. The vendor itself is a normal reagent vendor, aside its name and that little powder that Death Knights use to summon a minion. Either with that or slaying some humanoid around you (including players) to summon a ghoul. Fun part is, if your friend dies, you cast the spell on him, he will become a ghoul. Or better, he will have control over the ghoul. NO, REALLY!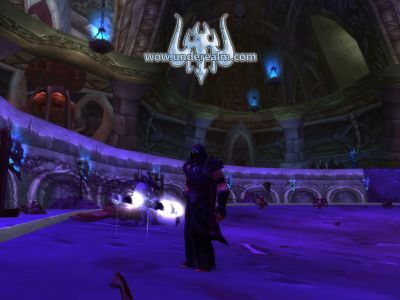 This is the first sword in the game for Death Knights (note, the "glow" is caused by one of the first Runeforgings you get along with the sword). It's cool but not just like the second one. The second one has runic inscription along the blade. NO, REALLY. Problem is with runeforging you see like nothing of it, but still… Also, be noted, the "second weapon" can optionally be an axe, instead of the runic sword.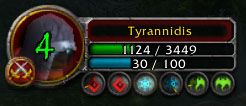 I must admit that the first time I heard of the Rune System, I simply misunderstood everything. By "consumed" I thought it meant that runes were a sort of strange "stones" you would "socket" somewhere, but had limited durability, or somewhere among those lines. Nothing so far from the truth. Consider those little "balls" some cooldowns for spells. A spell uses one, if there is one in cooldown uses the other, if there are all on cooldown you're toast. That's all there is to it.
Although I didn't understood what do glyphs have to do with Death Knight, but I just made the first 3 levels with him, so there is still time to learn that, and HEY THIS IS JUST AN OVERVIEW, FOR GOD'S SAKE! Cut me some slack, man!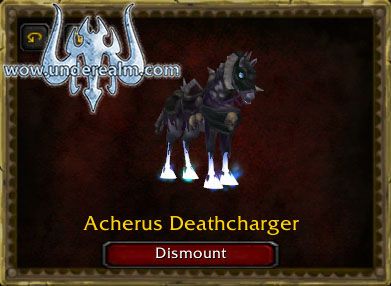 Gotten through a quest. Free. Epic. NO, REALLY. You get epic mount with Death Knight at about level 56. Which is terribly funny. And awsome. I used it to "run" through all the pack of mobs from Hellfire to Shattrath at level 58, and until deep Terokkar Forest nothing was able to stop me. And when they stunned and dismounted me, I killed the damn 62 wolf, and after him came another to help, namingly 63-Ima-kill-you wolf. And kill him too! NO, REALLY!
It was awsome… tiresome but awsome. Luckily I had a couple good  talents here and there that made me live another day 😀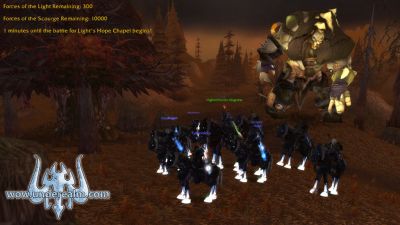 I thought it was cool. And I can't talk you about it anyway, or I will spoil too much. Bear with me and enjoy the screen.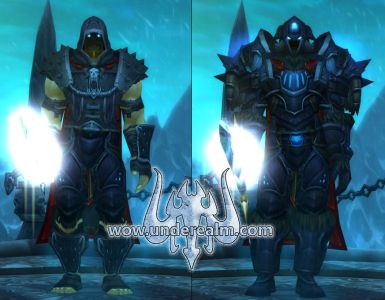 This is a graphical comparison of DK's starting and "ending" gear. By ending I mean after completing the main quest line which brings you to… wait, you actually thought I would tell you what happens? HA! In your face!